French
French is a subject where we learn how to communicate in a different language to our own and appreciate the different culture.
Leader: Sandra Whiting
Intent
We want children to leave Frimley enjoying the language of French and to embrace learning new skills. We want children to understand why we learn languages and to welcome the opportunity to do so, whilst developing an understanding of other cultures. Our intent is for children to build in confidence in speaking and develop their conversational skills in preparation for the KS3 language curriculum. We want children to develop confidence in speaking, listening, writing and reading French.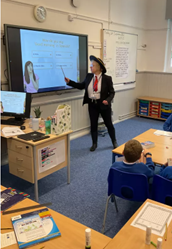 Implementation
French is delivered by a specialist teacher in three or four week blocked rotation (with one lesson a week). In order to immerse the children in the language, the teacher speaks, on the whole, in French. French lessons are planned to meet the needs of the children at Frimley and are progressive in nature. They meet the statutory requirements of key stage 2 MFL.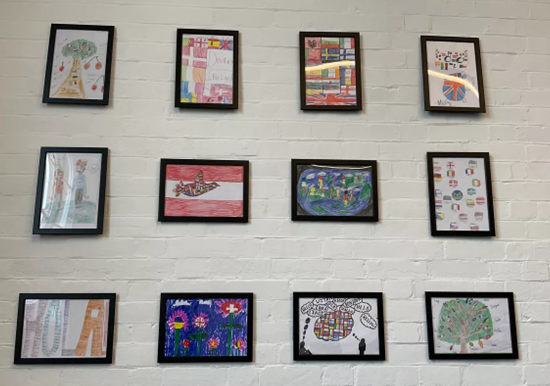 A French lesson begins with all children being greeted in French and the register being taken in French. A starter is introduced in French and often involves writing (English is used for consolidation). All children record the date and title along with the learning objective in their books in French so that they are continuing to consolidate written skills here too. The lesson contains the opportunity to speak, listen, read and write in French based on topic areas which are progressive across the key stage. Children develop their knowledge of French vocabulary and concepts and their skills of being able to communicate more confidently in French.
Scaffolds are given to support some children with their learning (and these may be oral or written). Some children, who are fluent French speakers, have their own tasks tailored to them and work on the progression of their written French. This year, Frimley will be celebrating European Languages Day with a whole school assembly about the importance of languages, a fun competition and a morning of language driven activities.
Impact
In French lessons you will see/hear:
A balance of reading, writing and speaking and listening in French
Children rehearsing and developing their pronunciation and language skills
Children enjoying games, rehearsal and conversations in French
The teacher speaking, on the whole, in French to immerse children in the language
Scaffolds to support learners
Individual tasks for children fluent in French in order to personalise learning for them
Progression through a topic will be evident in the development of key skills and acquisition of main vocabulary
ICT being used through a linguistic APP
Because of the delivery of French, children will leave Frimley:
Confident to speak in front of others
Being able to hold a simple conversation in French
With an understanding of the relevance of what they are learning in languages and how it relates to everyday life and travel
Ready for the KS3 French curriculum