History
History is the study of people and events that happened in the past. People trained in history are called historians.
Leader: Balraj Ryves
Intent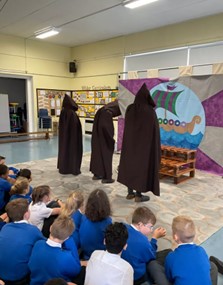 At Frimley, we want children to love History and enjoy exploring the past. We aim to provide more immersive and memorable experiences for every child, to bring the past to life. We believe it is important for the children to develop a sense of chronology and to be aware of the actions of significant people and events and understand how they have shaped and influenced our lives today. We expect children to be able to place events, people and changes into correct periods of time, as well as use dates and vocabulary appropriately. We believe it is important for them to develop a coherent knowledge and understanding of Britain and the world around them, as well as ensuring learning is relatable to them by learning about the history of our local area. We aim to foster and inspire a sense of curiosity and develop skills of enquiry, allowing them to become open minded "historical detectives" who explore the past in exciting and creative ways.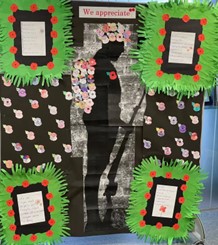 Implementation
The History curriculum to be taught in a chronological order from Year 3 to Year 6 to support their understanding of chronology, making links between periods of time.

Include role play and workshops in to lessons and the use of a variety of primary and secondary resources, such as artefacts, to help the children find clues and deduce information about the past.

Develop links between local libraries/ companies/ museums to explore and make use of their artefacts/ resources/ secondary sources.

Communicate with and develop links between the Prospect Trust (KS3 & KS4) to explore and make use of their artefacts/ resources/ secondary sources.

As children progress through the school, they are taught to further develop their critical thinking skills and investigate and analyse historical evidence and communicate their findings in creative and engaging ways.
Impact
Children will:
Display a sense of curiosity about how the past influences who we are today through questioning, critical thinking and reflecting upon a range of sources.
Develop a deep understanding about significant people and events in Britain and the Wider World.
Understand how significant people and events have shaped their lives today.
Have a secure understanding of chronology.