Music
Music is a subject where we listen to, perform, and explore music across a range of genres.
Leader: Sandra Whiting
Intent
We aim to design a curriculum where children cover different elements of music, learn important vocabulary and develop a good understanding on how music has changed throughout history. At Frimley we continue to review and update the music curriculum to ensure that staff and children experience good musical experiences and improve their knowledge and understanding.
Implementation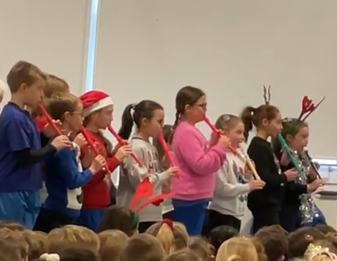 The music curriculum ensures students sing, listen, play, perform and evaluate. This is embedded in the classroom activities, various performances and attending specific music lessons. Elements of music are taught in the classroom lessons so that children are able to use some of the language of music to dissect it, and understand how it is made, played, appreciated and analysed. In the classroom students learn how to play an instrument in an ensemble, and in doing so, understand the different principles of each method of creating notes, as well as how to read basic music notation. They also learn how to compose focussing on different dimensions of music, which in turn feeds their understanding when listening, playing, or analysing music.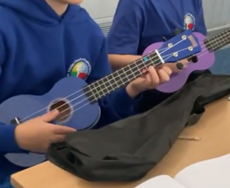 Composing or performing using body percussion and vocal sounds is also part of the curriculum, which develops knowledge of musical elements without the added complexity of an instrument. Children's understanding and enjoyment is monitored through formative assessment in lessons and pupil voice feedback. CPD will be provided where possible and needed to increase confidence amongst class teachers and ensure strategies are available to further embed musical enjoyment and understanding across the school. This year we are implementing music assemblies in the classroom to appreciate and gain knowledge of different artists. Music artist of the week will be introduced for teachers to enrich their musical knowledge.
Impact
For children to understand the relevance of what they are learning within music and to enjoy their musical experiences within school. To ensure they experience performances from others as well as performing themselves. Children should be talking about music in school and what they have been listening to/learning about. They will leave Frimley with a good knowledge of music history and a range of high-quality music pieces, artists and composers.

In classrooms you will see and hear children:
working independently and collaboratively to produce rhythms and melodies using a range of instruments
learning about the various aspects of music such as pitch, tempo and dynamics and how they affect what we play and hear
listening to a range of recorded music to understand how music has changed over time and how it differs across the world
dissecting the different components of the orchestra and how these instruments were used to create works by notable composers.