PE (Physical Education)
PE is to promote an active and healthy lifestyle as well as learning fundamental skills within sports.
Leader: Zoe Pearce
Intent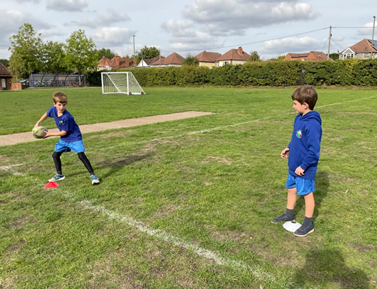 At Frimley, we offer a balanced sporting programme which is essential to the development of the whole child. We intend to offer children accessibility to a wide range of sports both through the curriculum and extra-curricular clubs, to engage all pupils and kick-start healthy, active lifestyles. PE and sport gives children the chance to be creative, expressive, co-operative and competitive, inside and outside of the classroom. Being regularly physically active can also help to ease anxiety, tension and stress and will result in improved attention in class.
As a school, we aim to ensure that all children are taking part in 2 hours of physical activity a week to provide the foundation for a healthy lifestyle. A clear competition pathway enables all pupils to participate in competition with opportunities for all, regardless of ability. Through the promotion and implementation of the Frimley values and the School Games values, pupils will understand the importance of working as a team, showing resilience, self-belief and determination to achieve their own personal best while supporting others to do the same. We also aim to offer a broader range of activities and sports to all pupils, including SEND children and Pupil Premium, to increase participation levels and interest in physical activity.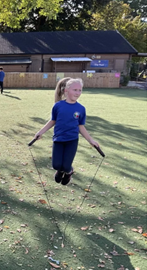 Implementation
All pupils will take part in a dedicated PE session each week. Each half term, year groups will focus on a different sport, based around either: invasion games (football, tag rugby, netball, hockey); striking and fielding (rounders, cricket); net games (tennis, badminton). Additional lessons will also focus on gymnastics, dance, fitness, cross country, personal challenges and problem-solving games.
All children will also undertake a term of swimming as part of their PE curriculum, delivered by a specialist teacher.
Sports Crew will be trained and utilised during lunchtimes to run fun, physical activities for the rest of the school.
Teachers will have the opportunity to observe qualified professionals to support their own CPD and to ensure teaching is of PE is to the highest possible standard.
A broad range of extra-curricular clubs will be provided throughout the year by school staff and external providers, including less accessible sports that children may not otherwise have the opportunity to take part in.
Through the use of a participation tracker, those identified as least active will be invited to join tailored clubs and a variety of 'inspire' events through by Active Surrey, that aim to motivate and inspire them to continued engagement in physical activity and sport.
As part of the PE curriculum, all pupils will participate in an inter-house tournament each half term as part of our curriculum provision, while inter-school competition opportunities will be available throughout the school journey through the Surrey Heath Primary Schools' Sports Association.
The school's values and the School Games values will be promoted across all areas of sport and PE with adults and the sport crew acting as role models and through celebration of positive examples demonstrated by pupils.
Extra-curricular clubs and identification of talent from teachers will provide a pathway for pupils to participate in inter-school competition.
Impact
Pupils will develop a positive attitude towards sport and physical activity whilst understanding the benefits of a healthy active lifestyle.
Pupils will develop a range of physical skills as well as teamwork and personal skills such as resilience, self-belief and determination.
At least 50% of children will engage weekly in extra-curricular clubs with a focus on sport and/or physical activity.
All pupils will have a clear pathway to competition through PE, extra-curricular provision and talent identification from teaching staff.
All pupils will have the opportunity to experience a new sport/ physical activity that they have not experienced before.
Children will learn how to collaborate with others and embed our school games values into their learning within the classroom (e.g. resilience, teamwork, passion, honesty, self-belief and determination).
Children leave Frimley with a broader range of knowledge of different sports, rules and skills, needed to progress their understanding further when they reach KS3.
Children will enjoy communicating, collaborating and competing with each other.
Children will develop an understanding of how to improve in different physical activities and sports and learn how to evaluate and recognise their own success.