PSHE (Personal, Social and Health Education)
PSHE is a subject which gives us a strong sense of belonging and community and develops our understanding of: relationships, well-being, self-worth, goal setting and self-development.
Leader: Jess Mills
Intent
The Jigsaw PSHE scheme of work (a mindful approach) covers all areas for the primary phase including the statutory requirements for Relationships and Health Education. It links to SMSC and British Values and through this scheme we are covering all aspects of the curriculum outlined by the government.
Jigsaw is a comprehensive and carefully thought-out scheme of work which brings consistency and progression to the children's learning.
It gives the relevant context to build self-esteem, confidence and resilience. The curriculum will enable the children to make informed decisions about their wellbeing, health and relationships and will build their self-efficacy through discussion and choice.
There are 6 learning themes (Being Me in My World, Celebrating Difference, Healthy Me, Relationships, Changing Me, Dreams and Goals) and these are taught across the school. The learning deepens and broadens each year.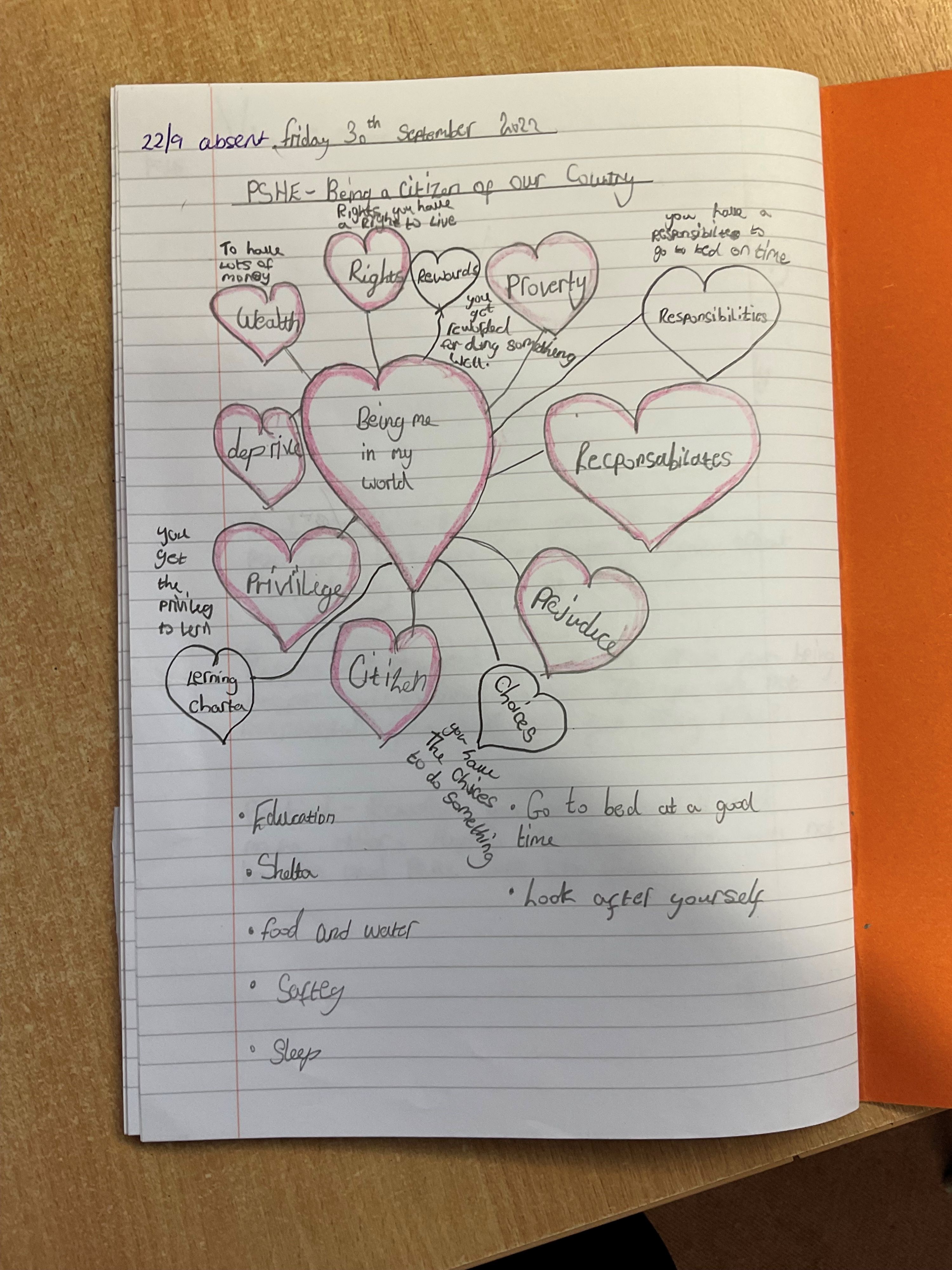 Implementation
The children have weekly lessons which last approximately an hour each
Every lesson starts with a reminder of the PSHE rules which are displayed in each class and 5 minutes of mindfulness calm
Each lesson will end with a Frimley-style reflection & self-assessment evaluation which will be monitored (in books). This will give the children a chance to voice their opinions and shape the curriculum.
Flips are made through using the comprehensive planning (including recommended questions for discussion) from the Jigsaw scheme and adapted to suit the cohort.
Each year group (and class) have their own Jigsaw mascot which is used as a talking object i.e., in Year 5, the children know Jigsaw Jez is there to help give them confidence to take part in discussions
Mind maps will be used at the start of the topic and will be added to throughout the learning journey.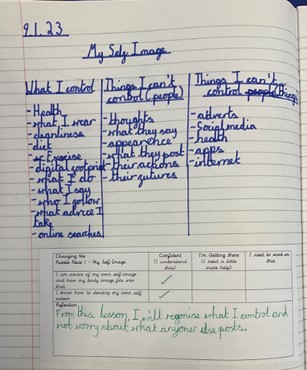 Children's input/influence
Weekly lessons which reflect their world and the benefits of consistency
Use of immersion assembles linked to the new topic themes
Use of the Jigsaw characters
Child-led activities within the lessons
Children voice own ideas to support planning (reflection sheet)
How does our school develop wider skills and capabilities across the curriculum?
Through assemblies, Enrichment Days, Charity Days, Feeling Good Week and Mental Health Week amongst other activities. The curriculum overview shows progression of both knowledge and skills.
Monitoring and staff development
At Frimley, we extend the development of PSHE through assemblies, Enrichment Days, Charity Days, Feeling Good Week and Mental Health Week amongst other activities. The curriculum overview shows progression of both knowledge and skills. Pupil voice will be gathered half-termly as will feedback from mental health ambassadors (one teacher from each year group).
This monitoring will then feed into staff development alongside; updates during staff meetings; well-being newsletter which provides additional content and resources and signposting to CPD on the Jigsaw website.
Impact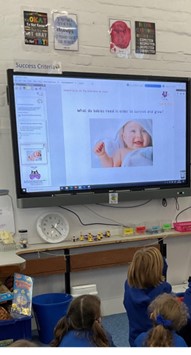 How do you know you have a quality curriculum?
A monitoring checklist is used to ensure coverage
Depth and breadth of the Jigsaw scheme which is fully comprehensive and progressive
What will we see around school if your implementation is successful?
Excitement, understanding and engagement of children who are able to talk about their lessons
What will we see in classroom?
Jigsaw character, PSHE activities in books and in the Frimley Learner Passports, PSHE learning charter in classrooms, use of the reflection sheets and mind maps in books
What will children be able to do better because of our teaching?
Develop resilience and responsibility towards their learning and other people. Develop compassion and respect. Gain understanding of what a healthy relationship, body and mind look and feel like. Understand what it means to be a good friend. To know how to stay safe on and off-line. They will know how to question, suggest, and ask. They will understand that their voice and opinions are considered and respected.
Children leave Frimley: Emotionally ready for their next journey; equipped with the power, tools, and knowledge to stay safe and make good choices.